My name is James Lee. I am currently the Head of eLearning at Bentleigh Secondary College.
I have a Bachelor's degree in Multimedia Technology and Media Studies from Swinburne University (Melbourne, Australia), a Graduate Diploma of Education (Secondary) from Latrobe University (Bundoora, Australia), a Certificate IV in Assessment and Training, and a TESOL certification from Teach International (Melbourne, Australia), with electives in Teaching Children and IELTS.
My roles in my current position include the implementation of a 1:1 program using stylus and touchscreen based technologies and cloud based collaborative note taking and feedback via O365 and OneNote. I also teach ICT and Media Studies.
I am proficient in using the Adobe Creative Suite, MS Office, and other multimedia software offline and online. I am continuously looking to push new technologies and curriculum to engage and build student achievement as well as maintain relevance to the modern world, such as introducing mobile and tablet app development, and focusing on 21st century skills such as problem solving, quality research skills, planning, collaboration, and reflective evaluation.
I have value-added to the school through leading the school in their eLearning intiatives; the design and management of ICT curriculum; improved welbeing and school connectiveness through organising student radio stations, anime group, and Yearbook committee; and led a group of students to win the Young Australasian Game Awards 2013 for their game Connor's Quest.
I have been an active member of the School Lead Users Group for Ultranet implementation, and the Mill Park eLearning community, a collaboration of schools in the area working on building elearning and ICT capacity within and amongst the schools. I also bring with me a vast wealth of eLearning experience, from working in the ICT and Online Education industry in schools such as Wesley College (Melbourne); companies such as Etechgroup and the International Baccalaureate Organization; and abroad as an Online Education Consultant developing an innovative eLearning Management System (LMS) for the Kingswood Partnership - a collaboration of schools in the UK – in response to the UK government's White Paper on education reform.
I am a well-organised, hard working, enthusiastic person with a love of life and learning. My formal training, combined with my travelling, life, and teaching/eLearning experience will prove to be great assets in and out of the workplace. I am creative, patient, empathetic, work well in teams, and a fast learner who is good at problem solving and thinking on my feet.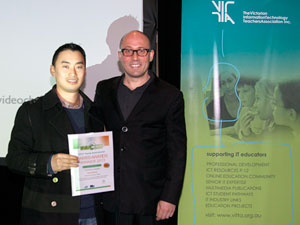 Receiving the Young Australasian Game Awards 2013 with Academy Award winner Adam Elliot at the VITTA Conference 2013.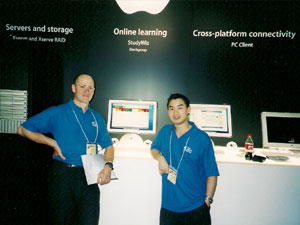 Demonstrating StudyWiz Virtual Learning Environment I had worked on at the Apple stand at CEBIT, Hannover, Germany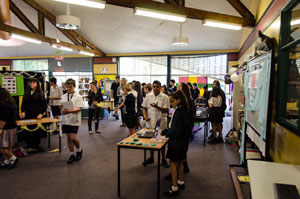 Launching the school's first ICT expo run by Year 7's to educate others on issues such as Cybersafety and security, and future technologies such as 3D printing, augmented reality and flexible screen technologies.